The Definitive List of The Office's Best Cold Opens (Ranked)
Only the moments that precede the opening theme song are more legendary than The Office's opening theme tune. A few seasons into the comedy series' run, audiences were treated to these memorable cold openers. They were delightful, light-hearted ways to get to know characters. They added to the show's genuine office atmosphere. Most importantly, they provided us with amazing exchanges, dank memes, amusing one-liners, and essential insight into the show's bizarre group of characters.


For the unfamiliar ones, a cold open on television is a brief sequence that occurs before the opening credits and typically has nothing to do with the story that follows. While many consider Brooklyn Nine-Nine the current king of the cold open, The Office has the all-time title, thanks to the guaranteed craziness and hilarity of the first two-plus minutes of every
episode. Whether
it was an endless procession of ingenious Jim pranks on Dwight or The Office meets The Office.
Whether you are or aren't still under the mercy of COVID-19, many of us are pondering an umpteenth rewatch of the show while stuck at home, so we thought we'd break down some of our favorite cold opens from the show's nine seasons. 


Prepare a pot of Kevin's amazing chili, parkour your way over to a good comfy chair, and let the party begin!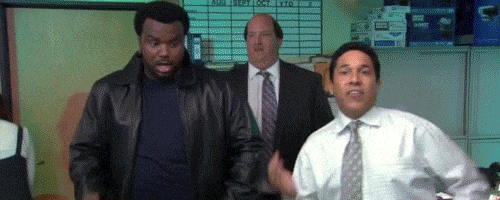 8. The reason behind Michael Scott's Dunder Mifflin Scranton Meredith Palmer Memorial Celebrity Rabies Awareness Pro-Am Fun Run Race For the Cure
Season 4, Episode 1: Fun Run Part 1 


I usually prefer the antics to the plot-driven cold starts, but I'll make an exception for Season 4's ironic opening. It undertakes the hard effort of establishing the show's new status quo (e.g., Michael's return to work as a manager, his domestic happiness with Jan, Jim's return to the office), while also delivering a gut-punch with an inattentive Michael smashing his car into Meredith.  


The brevity of the song, Kate Flannery's comical pratfall over Michael's hood is just too damn unexpected and funny. Not to mention the unnecessarily long name for the fun run. Fun fact: I wrote the charity's name from the top of my head, and looks like I still got some The Office trivia in my blood. 😉 


7.
Kevin's Famous Chilli
Season 5, Episode 24: Casual Friday


Kevin brings in his most famous dish, a big ol' pot of chili, to celebrate the return of casual Fridays at Dunder Mifflin. Kevin arrives at work early, hauling the huge pot up the stairs as the elevator breaks down. He reveals the key to his coveted recipe along the way: undercooked onions. 


As he explains, everyone will come to know one another in the pot. Or on the floor, because Kevin spills the chili in front of Pam's desk, and it ends up there. He tries to mop up the mess with clipboards and office folders, but Kevin is flopping around in his toasted ancho chiles and tomato goo by the time the calamity is done and the opening credits roll... and we're doing our best to stay together. 


Although this scene proved to be one of The Office's funniest cold opens, it is not without the hardships that some of the actors when through while shooting it. For one, Brian Baumgartner, the actor who played Kevin, later told that the hardest part was to make the actual spilling look like an accident and authentic, and that he still smelled filthy and of chili even after a shower. Mindy Kaling, the actress who played Kelly and one of the show's writers, also threatened to quit over the cold open since she got into an argument with her co-writer. Steve Hely, about the idea of the chili spilling itself. Luckily for The Office fans, the cold open was a hit and Mindy Kaling stuck with the crew as she watched the success of the show until the final season. 


6. Michael Grills His Foot
Season 2, Episode 12: The Injury 


Most cold opens have little to do with the plot of the episode, but The Office's first excellent one (they didn't start doing them until early in season 2) masterfully sets up the famous episode to come. Michael phones Pam in a panic, informing her of his critical injuries and requesting that she pick him up.  


What went wrong? Did he get into a car accident? Did he step on a lego? No, it's just a charred foot from a George Foreman grill. Dwight being the Dwight who wanted to be the next regional manager is the only person willing to go fetch Michael, which he does so quickly that he crashes his car and suffers a concussion. This would eventually become the perfect setup for an episode where Michael protests that his burned foot is a much more serious injury than Dwight's concussion. 💀 


And yes, you can get one of those George Foreman grills at your nearest target for cosplay purposes, but please don't grill your foot.  


5. Jim Impersonates Dwight
Season 3, Episode 21: Product Recall 


Third on the list is another one of Jim's pranks on Dwight, because of course, we just can't get enough of them. Identity theft is no laughing matter, but Jim's impersonation of Dwight in the show's third season, when he buys his complete wardrobe and asks progressively bizarre questions about bears, beets, and Battlestar Galactica, is hilarious.  


It's one of Jim's less intricate pranks on Dwight throughout the duration of the show, but it's just as effective. So effective that it has become one of the most iconic cold opens and lines in The Office that is often referenced in other forms of pop culture. 


4. Toby Returns
Season 7, Episode 18: Todd Packer 


When Toby left Dunder Mifflin to start a new life in Costa Rica, it was one of the finest days of Michael's life. Finally, it was possible that the office will once again be a fun place to work! No more Toby from HR to ruin his day and to give him a temper. 


Toby, on the other hand, realized that Costa Rica wasn't for him and returned to Scranton to give birth to the no infamous "NOOOO, GOD!" meme that we all know and love. 


Then, Kelly took a couple brownies and announced to the group that she was bringing them back for Toby, whom Michael assumed was kidding since he thought Toby was still in Costa Rica. Unfortunately for him though, when he returned to the annex, he discovered the one and only Toby back at his desk. Michael was at a loss for words when he yelled "God, no! God, no. No, no, no!" in disbelief. 


3. Killing Bin Laden, Hitler, and Toby
Season 6, Episode 25: The Chump 


Michael has always had a deep, steaming hatred for HR rep Toby Flenderson, and he rarely missed an opportunity to let the rest of the office know about it, but he goes a little too far in this opening scene, which starts with Toby giving a rather boring safety lecture to his coworkers, one in which he can't even make fart jokes. 


Instead, Michael tells the office that they'll die of boredom before radon poisoning, which draws a laugh, but his follow-up joke that if he had two guns and was in a room with Hitler, Toby, and Bin Laden, he'd kill Toby twice, which shocks the crowd. Of course, Dwight has to intervene and explain that Michael could kill all three with a well-placed neck shot, and he enlists the help of Phyllis and Andy to demonstrate his point. In this case, Toby is playing himself. 


2. Dwight's Fire Drill 
Season 5, Episode 14: Stress Relief


Dwight's "fire drill" was not only one the best segments in the series, but it may well be one of the most memorable opening scenes in television history. Dwight, the office's safety officer, begins by speaking to the camera crew while smashing locks and torching doorknobs across the office. He'd previously given a PowerPoint presentation on fire safety protocols, but he'd underestimated how tedious slideshows can be. 


People learn in a variety of ways, as we see when Dwight ignites a fire in a little trash can, alerting his coworkers to the presence of smoke, and then sits back to enjoy the ensuing panic and confusion. Before Dwight reveals it was all a drill, Michael throws a projector out the window, Angela rescues a kitten she'd stashed in a filing cabinet, Oscar falls through the roof, and Stanley gets assaulted by his own heart. It's truly one of the most chaotic yet hilarious scenes portrayed in television, and even in today's standards, nothing comes close to topping this classic of a cold open.  


1. Asian Jim
Season 9, Episode 3: Andy's Ancestry 


You might have expected this one already. This now iconic cold open occurs in the show's last season, and while it's still amusing, it also reminds us of Jim Halpert's long tenure at Dunder Mifflin, where he spent much of his time messing with his hapless desk mate, Dwight Schrute.  


Jim spends the morning at the dentist, where he enlists the help of his actor pal Steve (Randall Park) to impersonate him, while Pam plays along. Fake Jim has all of the appropriate passwords and previous sales information to make Dwight doubt his own reality, but it's the family photo of "Jim" with Pam and two young Asian girls that truly gets under Dwight's skin. It's just priceless to see Dwight's utterly confused face that's obviously been mindf'ed.  


Which cold open of The Office did you love the most? Anything we missed?
---